"The Queen of Bingo is a HOOT!" –Sacramento News & Review
To follow Rowan & Shane "LIKE" The Queen of BINGO!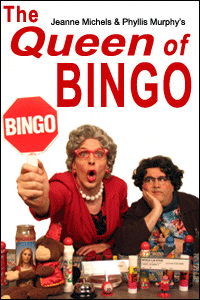 In the tradition of the hilarious Harvey Korman and Tim Conway sketches from the old Carol Burnett Show, comes the stage comedy The Queen of Bingo! 'Sis' and 'Babe,' two sisters on the other side of 50, want to add a little fun and excitement to their lives...but where to find it? BINGO!
Jeanne Michels and Phyllis Murphy's The Queen of Bingo explores the worlds of Bingo, family ties, diet crazes, widowhood, hot flashes and winning! The audience joins in the fun during the "Middle Bird Special" - a real Bingo game where some lucky audience member wins a FREE 10 lb. frozen turkey at every performance! Theatregoers young and old will howl with laughter as two zany guys, playing two crazy gals, light up the stage in the comedy hit The Queen of Bingo!